Accurate No 2 Smokeless Gun Powder Desscription
Accurate Powders is a company that more than lives up to its name in terms of quality. The whole line of smokeless powders for handguns, rifles, and shotguns has been developed and lab-tested to ensure that they deliver the highest level of precision and performance possible. Accurate Powders combines the expertise of the greatest ballistic technicians with the highest-quality components to ensure that every rifle is better serviced when using Accurate Powder.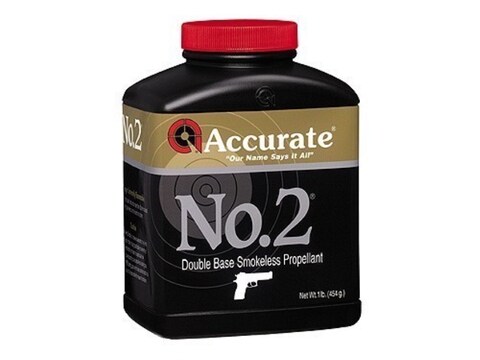 Accurate No. 2 handgun powder is a double-base, spherical handgun powder that burns incredibly quickly and is appropriate for use in a wide range of handgun calibers. The minimal recoil and flash of the No. 2 make it an excellent choice for concealed carry applications with short barrels. No. 2 is a non-position sensitive powder with low charge weights, making it a cost-effective and versatile choice for handgun shooters who engage in large volume shooting.
Manufacturer's Cautionary Statement:
Do not load the cartridges with more than the maximum loads specified in the reloaders handbook.
There should never be any mixing of two powders, regardless of the type, brand, or source of the powders.
Never replace any other smokeless powder for black powder or any other substitute for black powder.